With the arrival of my 40X Rangemaster I thought about measuring the rim thickness of my ammo and sorting the oddball sizes out and setting them aside for warm ups or plinking.
Not wanting to spend $40-50 to buy a cheaply made tool for it, I decided to make my own cheaply made tool.
What I used was a spent, deprimed and sized 5.56/.223 cartridge. I trimmed the mouth with My Forster case length trimmer, but if you dont have a trimmer, just use your calipers to find a case that measures the same from the base to the mouth as you measure from different angles, IE around the face of the clock so to speak. Rotate the case a little and measure 5 or 6 times.
Then I took a wire brush and a cleaning patch and made sure the interior neck was nice and clean.
Just drop a .22 cartridge in the neck of the case and measure it. They fit nice and tight with no slop, but not too snug that they are hard to drop in and take out.
edit: Why would you want to measure the rim thickness of 22 rimfire target ammo?
Think of this as a headspace gauge for ammunition. A 22 headspaces off of the rim. If some of the rims are thicker or thinner than most of the others, the bullet will be at a slightly different position at the start of the rifling, and its going to have a slightly different trajectory or flight path to the target in relation to the others.
With this tool you can separate the ones that are thicker or thinner than most of the other ones in the box and tighten up your groups.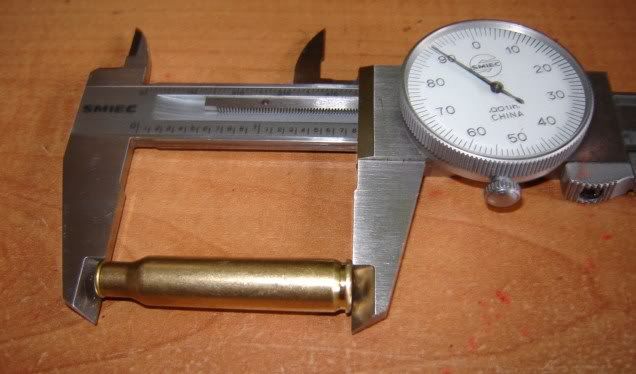 e