There has been questions about the fit of commercial stocks lately so I thought I would post my findings
In my opinion all Boyds/Dupage/CMP stocks need "some" work. Some more than others. Here are a few things I have found that need checked
You need to check the width of the barrel channel. If it is to narrow it will hold the barrel up and result in your rifle shooting high. You can see that I releived both sides of the channel in the picture
I also had a problem with the stock ferrule setting to high and the Op Rod rubbed on it.
I carved out some of the wood with a utility knife until it set in the proper position.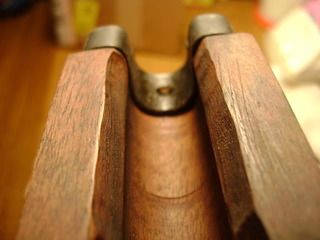 Problem solved? Not yet, I then had to fill in the area on the bottom since the ferrule set lower so it would stay in place when tightened
I taped off the stock, and applied paste wax to the ferrule for a release.
Then placed JB Weld to the bottom of where the ferrule sets on the stock, put ferrule in place and start to tighten the screw but not all they way