Kudos to Customer Service! Back in late August, I noticed cracks developing in the stock of my 1721XX Inland M1 carbine. As I wanted to keep the original stock from total failure, I decided to order a replacement from CMP. I hoped a low wood, I-cut stock would arrive, to match the old, highly sanded one it would replace, so I was a bit disappointed that high wood was in the box. It was such a nice looking piece of wood, so I decided to just oil it up, put a couple of coats of gunny Paste on it and call it good.
It took a month before I actually got to put the carbine in the new wood and was surprised to find the hand guard didn't fit properly! I noticed some others posting of hand guard problems on the forums, so I shot a "help" email to Customer Service, figuring they might just replace the hand guard. A couple of days later I received a FedEx return tag in the mail, with a note to send back the entire stock assembly. I boxed it up with a note explaining the problem and a description of my Inland with all early features (figuring that may help) and sent it out from work.
Tuesday FedEx dropped off a box. When I opened it, I found a replacement low wood, I-cut replacement, just like the one that came on the Inland originally! Bonus!
The CMP stock is top, the original below.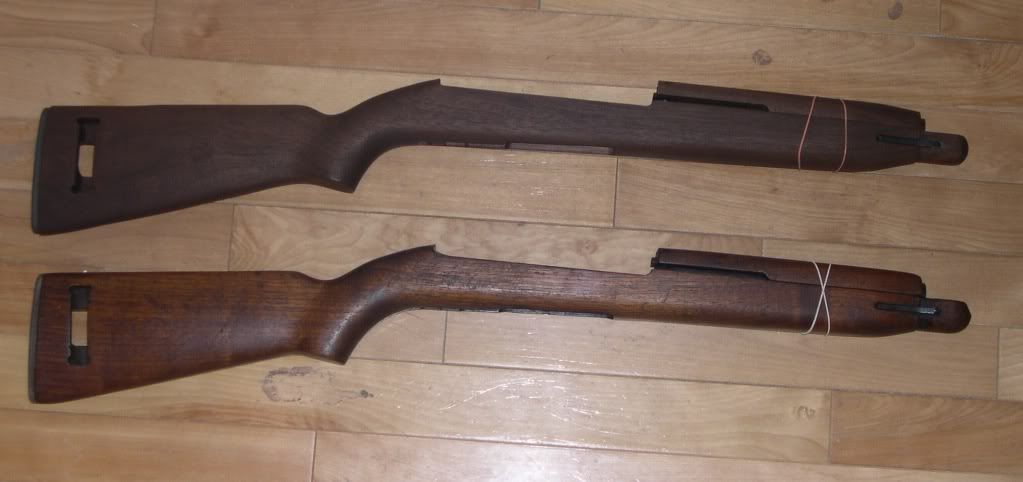 Now to oil & wax!
Thanks again, Customer Service. You folks are the best!